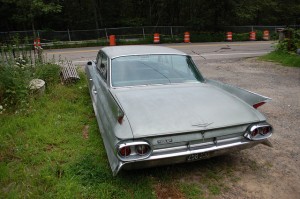 This 1961 Cadillac was the first car I looked at after I decided to sell my Comet and get something else. It was advertised as being straight but needing TLC for $2700 firm(and man was he adamant on that point). I was very interested as from a purely looks standpoint the '61 Cadillac is my absolute favorite. It embodies the jet-age aesthetic better than any other car, and from the back especially looks like it should be roaming the superhighways of a tomorrow that never quite happened.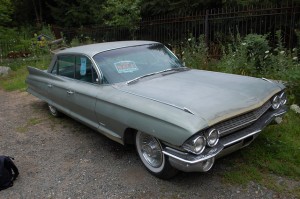 This particular one though had obviously been siting for a while then had been "fixed" by a guy who was clearly interested only in turning a quick buck on it. The 'very straight' body had globs of bond in the bottom of both front fenders, the front edge of the hood, and one door was half sculpted out of the stuff.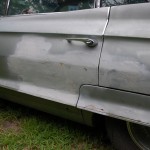 But so badly did I want this car that I was willing to look past that as well as the fairly thrashed interior. However after we'd driven 45 minutes to look at it, the guy wasn't there and wouldn't be for a while. So I went and took one last look at the car before we headed out, and happened to glance under the passenger wheelwell. What I found there caused me to get into Box(my xB) and drive away without a second glance.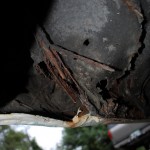 Though it is hard to see from the pics, most of the corner of the car is rotted away. The body mount bracket is no longer actually connected to the body in any way and just about everything else is either rotted, missing or bodged together out of what might be road tar? (oh and as a bonus, I didn't notice until just now the zip-tie holding up what looks to be a rubber fuel line where there should be a metal one) I expect whatever I buy will have some degree of rust and rot, I live in New England after all, but I'm not interested in trying to repair major structural rot.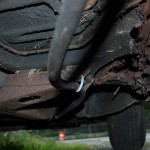 As I recall this car stayed on craigslist for a while, eventually dropping from $2700 to $2000 before disappearing, so I guess he found a buyer either willing to deal with the rot or who didn't bother to crawl under the car. I still get wistful about this car, mostly as a representative of '61 Cadillacs in general, but all it takes is looking at the pics of the underside to remind me why I don't regret not buying this one in particular.