Another craigslist find, this 1951 Plymouth had apparently been stored for sixteen years with the plan of an eventual restoration. The owner finally realized it would never happen and decided to sell. He said that even after its long slumber it only needed a new battery & points to drive from his mother's garage to his business, the brakes even worked.
I'm not sure what model it is, but it is clearly the most stripped-down basic model sold. It has dog dish hubcaps, no radio, & rubber floor mats. What amazed me was, in addition to its lazarus like revival, the car was amazingly original, and was in very good shape(hiding from 16 years of new england weather probably helped). I found some rust in the floor & trunk but none in the outer body, and while the rubber mat had dried out such that it had shattered, the rest of the interior was in great shape. The only big issues are the need to go through everything due to sitting so long, and that the driver's side of the windshield is badly cracked and would need replacing(a $300+ job in parts alone, minimum).
However at the time, and even now the car taunts me because I can't decide if it is exactly what I'm looking for or exactly what I'm not. I have a great respect for simple vehicles that are what they are without trying to be more..And dog-dish hubcaps have always been my favorite style. But the car is also so simple as to be a bit boring, and it isn't clearly the art-deco of the post-war era nor the glorious excess of the late-fifties. Every time I look at the pictures of the car I get a bit of a thrill, but don't know if that would last long enough to be worth pursuing.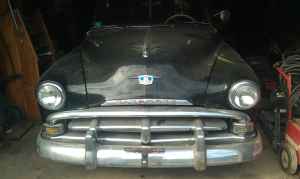 This wouldn't be a big deal if I just couldn't decide and then moved on and had a twinge or regret; But every few weeks the seller re-lists the car on craigslist and it gets me waffling all over again.