These are just some pictures, and the old spec sheet from the original Cat homepage, more may be forthcoming here. But don't hold your breath.
---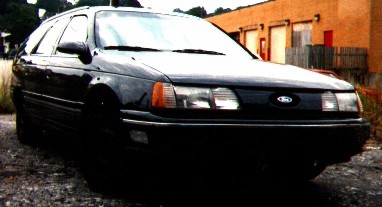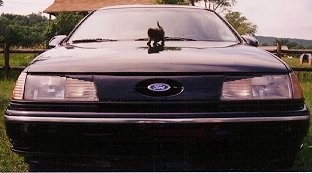 ---
The Cat started life as a 1991 Ford Taurus LX station wagon. The LX designation indicates the fanciest trim level on the Taurus, and The Cat supported this. She was ordered from Ford with every avalible accessory possible including sunroof, digital dash, climate control, power seats, etc. The one interesting difference is that she was ordered with the larger 3.8liter V-6 motor, and a performance suspension package, which included front and rear anti-sway bars, and four wheel disk brakes.
I purchased her in April of 1997 with 101,000 miles on the odometer. She remained stock for a total of two weeks before the first modifications. :)
---
What I have done so far:
Swapped pitted stock alumium rims for 15"x6" steel wheels.
Installed gas charged rear shocks.
Had car repainted in Gloss Black.
Installed a CB radio. (this was stolen in febuary of '99)
Removed roof rack crossbars (if you have a wagon, Do this it really changes the car's look)
My future plans:
Repair front end damage.
Add K&N air filter and custom air intake system.
replace stock speakers.
Find a set of 1986-1988 police package hubcaps.
Tint windows.
My money is no object wish list:
Swap in a SHO 3.0 V6, 5-spd manual tranny, and full drivetrain and suspension.
Install a 1991 SHO front bumper and rocker panel moulding.
Have rear quarter windows removed and holes welded over, turning the car into a sedan delivery.
---
For information on modifying non-SHO taurui, try The Ford Taurus Performance Page