Careful, most all of these are big pictures
---
May 2002
Just a quick shot of The Cat's new New Whiskers & Mouth
---
April 2002
Just a few pictures to show what The Cat currently looks like, she had just been washed and was still wet so she was even more shiny than usual.
---
January 2002
These two pics are of The Cat just before she was limped into storage with a bad transmission.
---
October 2001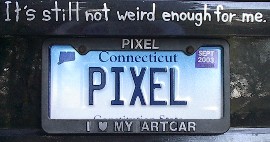 The Cat gets new vanity plates.
---
October 2001
The Cat was rear-ended in Boston by and SUV on the 6th. Here are some quick shots of the damage. Fortunately the accident was fairly minor and only damaged the back bumper.
---
For older pictures, head over to the Old Pics section.