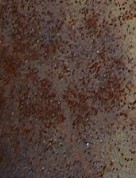 plans for Scar
Exterior:
Welded steel front and rear bumpers I'm planning to either replace or cover over the current stock bumpers with heavy welded steel ones. The front bumper will also have an overrider on it that will protect the headlights & radiator.
Roof panel The roof will get a large sheet of heavy steel welded or bolted to it. I want a piece up there that covers the entire roof and is strong enough several people can stand on it without having it flex like the original sheet metal roof does. This panel will probably have a rail running around the outer edge of it with spot lights attached to the front, rear and sides. I'll also likely mount the matching spare tire up there and possibly a pair of jerry cans.
Tank hatch This has been part of the Scar concept since day one. I want a tank style hatch in the roof, mounted above the middle front seat. I want it to open and close and be able to be solidly latched & be watertight (to keep rain out). I have a basic design in mind but exact details will depend on who welds it up for me.
Expanded metal mesh window panels I want to build expanded metal mesh panels for the rear window and the windows of both rear doors. The rear window panel will be welded/screwed in place as will the panels for the small fixed glass piece on the doors. The piece for the roll-down part of the rear doors I want to design with a hinge at the bottom edge and a clip at the top. So if the window is down you can also fold the panel down and be able to actually reach out the window.
Interior:
Danger ceiling I'm going to have to rip out the stock headliner to install the tank hatch mentioned above. Once I do that I want to add all sorts of warning signs and stickers to the ceiling of the car. Not for any important reason, but because it'll look damn cool.
Drivetrain:
exhaust cutouts With the new exhaust system Scar will be getting a set of cable-operated exhaust cutouts. In normal mode they will be closed and the exhaust will route through the mufflers. Pull a lever and they will open, dumping the exhaust out the sides of the car through straight pipes. Letting all that sound and fury out to roar.