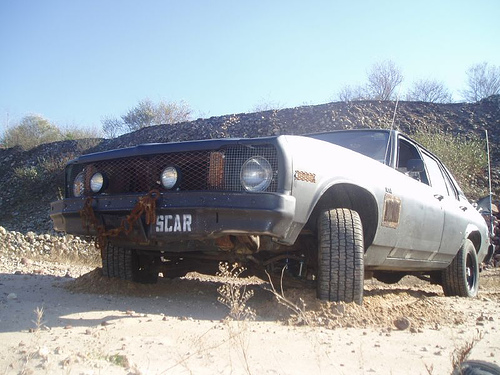 After the fiscal and mechanical disaster that was my Cadillac, I decided I needed a cheap set of basic wheels. I bought a battered '78 Nova for $500. As expanded on further in the Concept Section, the Nova became the canvas for an artcar concept I'd had in my head for a while.
Scar was a blast to build, and very imposing on the road. I enjoyed the entire project, but starting with a worn out 26 year old car meant everything was in terrible shape. And the fact I was working a job where I drove up to 500 miles a week meant I was wearing out Scar faster than I could maintain and improve her.
Scar was pulled off the road in April of 2005 because repair costs and the cost of gas when driving upwards of 500miles a week on an under-10MPG car were killing me. I parted out Scar on ebay, and bought Patchworks. This has given me much more time and money for continuing work on Emily.