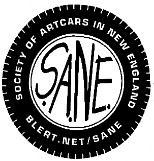 Gallery
---
[What?][Who?][Where?/When?][How?]
---
Current members
These are the current members of S.A.N.E. If you wish to join and have your information added here, or if you are here and want to edit your info/picture, please contact us.
Connecticut:
Artcars:Interstatement, The Road Rage & Rolling Vigil
Owner:Chris
Location:Hartford, CT
Email: Velvetbrown@aol.com
Chris & Rolling Vigil were featured on NPR (you can hear the interview, it's at the very bottom of the page).
Rhode Island:
Artcar:Freeloop
Owner:JP & Alyce
Location:Providence, RI
Website: freeloop.com
ArtCar:El Torpedo
Owner:Cherry Circus
LocationNewport, RI
Maine
Massachusetts
Artcar:Shark Car/Puzzle Car (he makes different removable 'costumes' for his car)
Owner:Andrew
Location:MA
Website: Shark Car & Puzzle Car
ArtCar: The Gene Machine III
Owner: Gene Atwood
Location: Boston (Roslindale), MA
Website: The Gene Machine
ArtCar: Rozzie
Owner: Karl Haakonsen
Location: Roslindale, MA
---
[What?][Who?][Where?/When?][How?]
---


www.blert.net/sane/