Stories
---
|home|pictures|stories|restoration|modifications/upgrades|Interchanges | links|
---
Aquiring Emily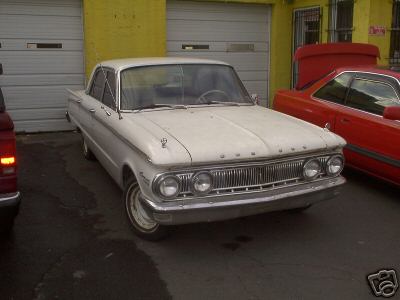 From the ebay ad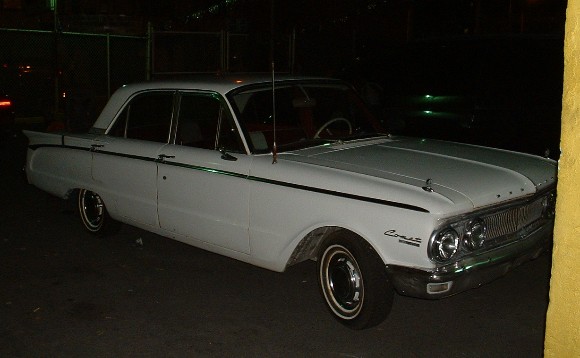 Front at the car lot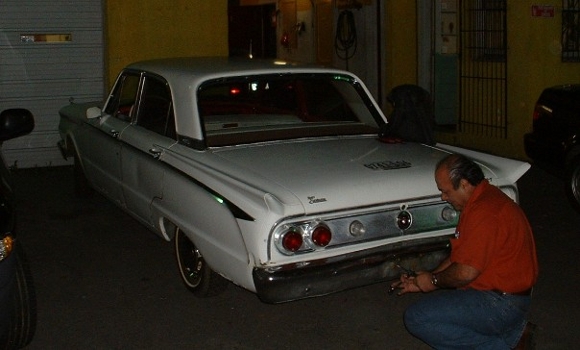 Rear at car lot (that guy is the salesman, trying to pry the stuck gas cap open)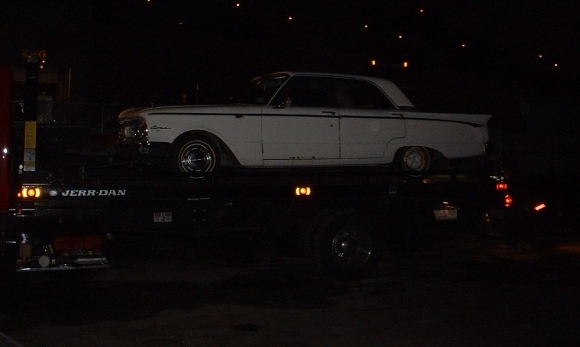 On the 3rd and final tow truck
I have loved the classic Comets for many years, and in September of '04 I finally decided to buy one. I found the car that would be Emily through ebay. It was in Philidelphia, so a friend and I piled into Scar and drove down there. The Comet was in much worse shape than the ad claimed, with rust, a mismatched drivetrain and missing the keys. But she was my favorite year (1962), and I was smitten by the white with white & red vinyl color combination. I bought her for $435, hotwired her and started the 275 mile drive home.


Just into New Jersey the distributor cap shorted out and melted, killing the engine. This was at 10pm, By the time I had her towed off the highway it was past midnight. We had a midnight meal at Dennys and got a hotel room for the night. The next morning I bought a cap, rotor and plug wires, as well as new wipers and some switches to replace the twisted-together dash wiring I was using the start her. After a of fiddling we were ready to hit the again. However just as I got my ticket at the entrance to the Jersey Turnpike she died again.


This time it was the generator not charging. Turns out she had been running off the battery for the two days, and it had finally run out. After discovering there wasn't a generator to be found in southern Jersey we hit on the idea of swapping the batteries between the Comet and Scar. Scar would charge one while the Comet ran off the other.


This got us back on the highway, 75 miles later Emily overheated. After sneaking into a DOT facility to find water and refilling the radiator I was moving again, with the heat going full blast to help cool the engine. Five miles after that the transmission overheated and started slipping(I discovered later the previous owner had removed the cooler lines). At this point I gave up and decided to have her towed the rest of the way to Connecticut. it ended up taking about 5 hours and two more tow trucks to get the last 120 miles home.

My girls, Emily & Scar the day after arriving home



www.blert.net/comet/